Choosing a color scheme:
What is your favorite color?
Find it on the Color Wheel.
Choose another 2 - 3 colors that would look good with it.
Try different color schemes to determine them.
All colors should belong to a color scheme.
Fill in each area with a value range of each color.
monochromatic
analogous
complementary
triadic (split 1)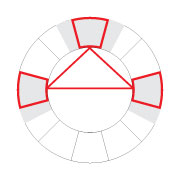 triadic (split 2)
triadic (split 3)