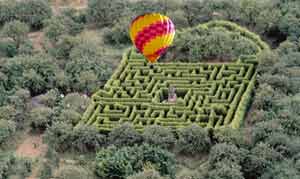 You are going to build a maze in 1 point perspective.
Imagine that you are flying above a maze in a hot-air balloon. You are right above it. So… What do you see?
You see the top part of the walls, some of the walls' sides and some of the ground. Remember how we started drawing a box in 1 point perspective?
We start with the side that does not get distorted. If we look at out maze from above which side do we see without any distortion? Correct… The top of the maze. That's what we start with...