Use a black pen and fill in all background areas with cross-hatching technique.
Pay attention to where you shade.
This is what it looks like when you are done with this step.
See the numbers?
Skip ribbon #1
Start with ribbon #2. Shade everywhere where it is overlapped by ribbon #1.
Shade on both sides.
Value should fade from dark to light: start with dark cross-hatching, follow with hatching, space small strokes to lighten the value, finish fading with pointillism.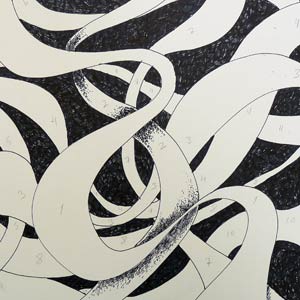 After you are done with ribbon #2, proceed to next ribbons.
Connect ribbons' ends:
Use pencil at this point.
Create folds, twists, etc.
Outline with black pen.
Complete shading.
Erase all pencil marks.