What is triptych?
A triptych is a series of three paintings or carved panels intended to be displayed together.
Originated in Ancient Rome, triptychs became a popular form of altar pieces for Early Christian churches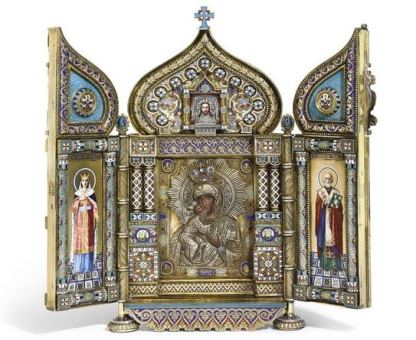 Traditionally two of the panels were attached to the central one by hinges and folded over it, to show two different paintings on the back.
In modern art, you can use any media to create a triptych, including painting, drawing, relief carving, collages, photograpgy, graphic design, etc.
Shapes and dimensions can vary, but there has to be an order or logic to why you are using these dimensions. Usually, you have all 3 images have the same height. Width can be the same for all 3 pieces, or at least the side panels are the same width. Remember, the 3 pieces will be displayed together - they should look like they belong together.
Here are some examples:
Unity (principle of Design) should be applied to troptych. That means that all panels have to share some properties: color scheme, repeated elements or variations of elements, common theme, background or anything that will make these three panels look like they belong together:

Here is your assignment:
Create a triptych of images that depict various emotions. You can depict 3 different emotions or 3 variations of one emotion.
Pick from the list or think of your own:
Acceptance
Affection
Aggression
Ambivalence
Apathy
Anxiety
Boredom
Compassion
Confusion
Contempt

Depression
Doubt
Empathy
Envy
Embarrassment
Euphoria
Forgiveness
Frustration
Gratitude
Grief
Guilt

Hatred
Hope
Horror
Hostility
Homesickness
Hunger
Hysteria
Interest
Loneliness
Love
Paranoia

Pity
Pleasure
Pride
Rage
Regret
Remorse
Shame
Suffering
Sympathy
All images have to meet the following criteria:
Unity of all images, use of rRepetition and rythm
Apropriate dimensions
Each emotion is evident in the artwork
All images are extensively edited in Photoshop. Filters and/or blending modes are used. Files have multiple layers - do not flaten the images!
Creativity
Craftsmanship - that means "quality of selections" in Photoshop!
Overall flow in the design. Try to "tell a story" or convey some message with your artwork!
| | | |
| --- | --- | --- |
| psychotic happiness | fear | anger |
war
Here are some examples of Emotions artwork from a wonderful site www.worth1000.com: