worksheet 2: value scale
Value is created by a light source that shines on an object creating highlights and shadows. What we see is the amount of light reflected from each surface. Each surface (plane) reflects the amount of light that it receives. So, the sufaces that face a light sourse receive the most light - so they reflect the most light - so they look the lightest.
As long as you are aware of this - it will make it so much easier to shade your drawing when you know where the light is coming from.
Value creates depth within a picture making an object look three dimensional with highlights and cast shadows, or in a landscape, where it gets lighter as it recedes to the background giving the illusion of depth.
Multiple surfaces (planes) of an object with a single light source cannot have same value (because they are all facing the light at different angles).
Value scale is a range of values (dakrs and lights) between black and white.

Values show space, depth, or perspective.
By lightening the more distant objects, artist can create an illusion of depth (atmospheric (or aerial) perspective).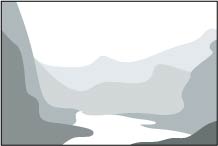 Now, let's start with the value scales.
You always start with the darkest valu (black). Why? If you need to - you can always leave the lightest value just white, or go back and add shading to a midvalue. But what happens it you are half the way through the value scale - and already using the darkest value you can get out of your drawing pencil? You would have to go back and start erasing... Which ruins paper and creat a mess. So, just to save time and effort... start with black.
Use the value scale in your worksheet as a reference.
Start with hatching technique. Use different grade pencils for different values:
0
1
2
3
4
5
6
7
8
9
10
6B
4B
2B
B
HB
H
Then try crosshatching. Use just one pencil: 2B
Continue practicing and experimenting with different shading techniques.
Fill in all squares with a uniform shading. Make shure the value changes gradually. Keep comparing values. Make sure the right square is always lighter than the left one.