Think of an emotion that you would like to depict.
Acceptance
Affection
Aggression
Ambivalence
Apathy
Anxiety
Boredom
Compassion
Confusion
Contempt

Depression
Doubt
Empathy
Envy
Embarrassment
Euphoria
Forgiveness
Frustration
Gratitude
Grief
Guilt

Hatred
Hope
Horror
Hostility
Homesickness
Hunger
Hysteria
Interest
Loneliness
Love
Paranoia

Pity
Pleasure
Pride
Rage
Regret
Remorse
Shame
Suffering
Sympathy
Sketch a few ideas of how to depict this emotion. Incorporate facial features into design.
1. Throw a piece of clay and roll a slab - big enough to fit the entire mask
2. Place a piece of canvas (or dry paper towels) over a work board. Place a mask mold onto the board.
3. Place wet paper towels over the mast to prevent clay from sticking to it.
4. Place the slab over the mask.
5. Form the facial features. Keep the mask under the slab to support the form.
6. Cut out the designed shape for your art piece.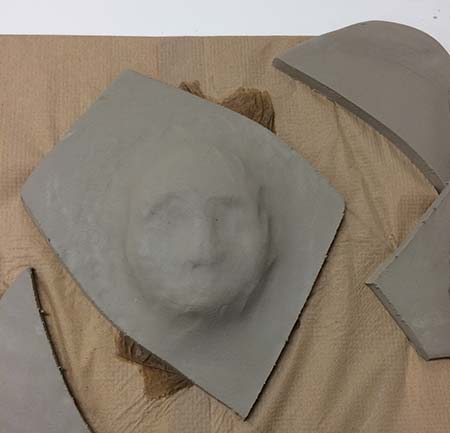 7.. Spray the slab with water from time to time to keep it moist as you do the sculpting.
8. Attach extra pieces of clay to enhance the facial features or to decorates. Do not forget "score & slip" routine when attaching pieces.
Smooth in attached parts to make sure they are cemented.
9. Between lessons: cover the project with wet paper towels and keep unfinished project in a plastic bag to prevent from drying.
The rest of the steps will be uploaded soon.