The paint that you apply inside each area is called a "wash"…
That means that the paint is very watery, easy to see through, translucent… Do not grab too much paint on the brush - washes should not be opaque color and cover up the lines.
Because the washes are transparent - you can layer them. That's an awesome property of watercolors - you can build up colors and color values one step at a time.
Coloring one shape at a time is a great technique if you are a beginner painter.
Once you are comfortable with watercolor paints - then go ahead and experiment with the washes and other watercolor techniques. Watercolors dry pretty fast - so you need to paint fast to achieve this unique "watercolor effect". So for now, let's color in one shape at a time. In my example - it's one petal at a time.
Apply a wash of a light shade of the dominant color onto the entire shape.
Don't wait till it dries to go to the next step.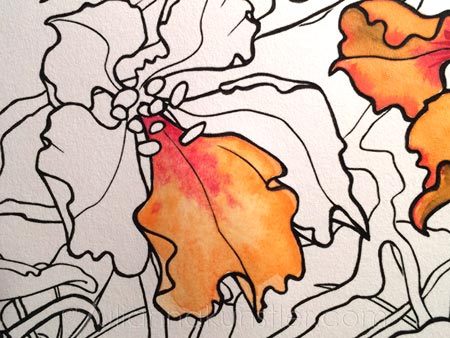 Add other colors if needed and have them bleed with the wash.
As the paint dries - it becomes lighter - so you might need to add more colors to make colors look more vibrant.
In this image: I added extra color to the edges.
If the base wash is already dry - use a damp brush to fade the colors.
Add shadows.
I used a light blue wash to go over the areas that are in a shade.
Extra light blue wash for a soft shade.
When everything is dry - you can paint over to add more details.