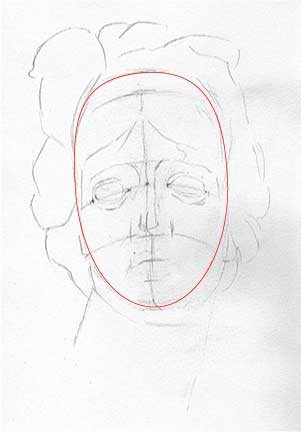 1. Start with drawing a head shape.
Please note: head is not a ball – it's more like an egg.
Use #2 pencil or harder (H or HB). Hard pencils are better for light value and detailed shading.
2. Draw a line through the middle of the face.
If the head is tilted – this axis should reflect it.
3. Find the center point and draw a horizontal line through it.
This is your "eye line". Eyes' corners will be placed on it.
4. Face is defined by a hairline at the top and a chin at the bottom.
Divide face into three equal parts.
1 - hairline
2 - eyebrows
3 - nose base
4 - chin
5. Place eyes onto the "eye line". The space between the eyes equals the size of an eye. Think this: "you could fit another eye in between your eyes".
You can also fit an entire nose into this space. The inner corners of your eyes are aligned with the outer corners of the nose.
6. A nose has 3 sides: front, left, and right.
They take equal space.

Divide the nose area into 3 parts.
7. Placing a mouth line is easy.
Divide the bottom third of the face into three equal parts. The mouth line will go through the upper third mark.
The lower third – is your chin.
8. To position the mouth corners – draw straight lines from the middle of the "eyebrow" line through the corners of the nose.
Mark the mouth corners where these lines cross the mouth line.