1. Image search: Find a high quality photograph of an organic object: plant, animal, fish, etc. Do not choose a complicated and detailed picture - oil pastels are not great at details.
Do not use: drawings/paintings/designs by other artists. No logos or writings.
Save the image to the desktop (not the thumbnail, but the full-size photograph). You can do it by dragging it onto the desktop.
2. Editing in Photoshop: Right-click on your image. Choose Open with > Adobe Photoshop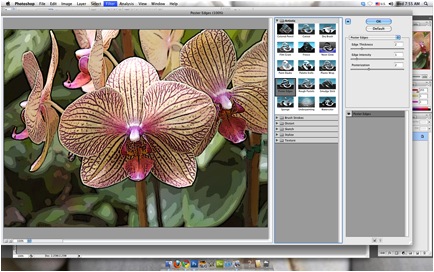 Simplify and reduce the colors of the photograph and increase the contrast of the picture.
You can do it by applying an Artistic filter. Depending on the colors of your particular image, choose:
Filter >Filter Gallery>Artistic >
• Cutout
• Dry brush
• Fresco
• Paint Daubs
• Palette Knife
• Poster Edges
• Smudge Stick
• Watercolor
Apply any of the above filters. Try different settings for each filter to keep the details but simplifying the colors.
File > Print
• Choose HP LaserJet 5550 printer
• Select Landscape or Portrait layout
• Check "Scale to fit Media"
• Print