When it's time for coloring – you will have to use at least three different coloring medias:
colored pencils
watercolor pencils
watercolor paint
Once you cross the circle line you need to switch to a different media.
Use the variety of colors. If you have a large area of the same color – use different shades and tones of that color to make the design more interesting.
Watercolor pencils:
Shade lightly, use multiple colors, small strokes. Blend with a wet watercolor brush.
Colored pencils:
Blend colored pencils, create gradients.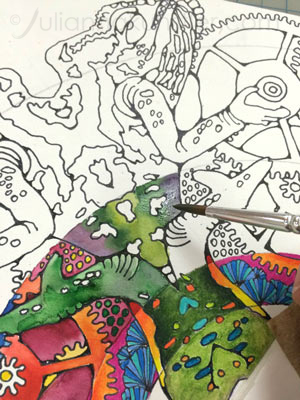 Watercolor paint:
Mix and blend different colors within larger shapes.
Stay inside the outlines
Continue with coloring.
In my example (starting in the center section):
w/c pencils
colored pencils
w/c
colored pencils
w/c pencils
Remember, craftsmanship counts!
Concentrated liquid watercolors
Fill in background of the last section with small areas of paint, then - while the paint is still wet!!!! - sprinkle some salt over that area.
Continue with painting more areas and sprinkling salt.
Do not touch the surface until the paint is completely dry.
Fill in the center if the mandala with a design or an image.
Outline with Sharpie, stylize corners.
Choose your favorite coloring/shading technique and medium.
Repeat the steps for the rest of the design.