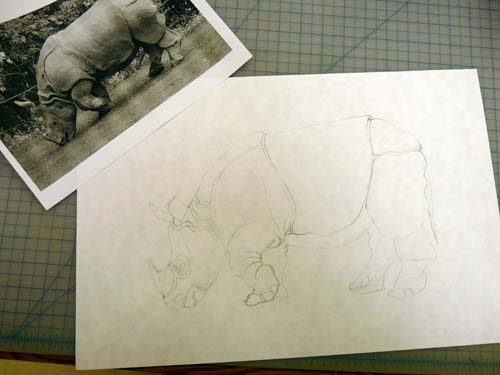 Draw an outline of your animal with a pencil on a 12x18 drawing paper.
Add necessary details (eyes, horns, ears, etc...)
Divide the outline into at least 12 areas. Do not use straight lines. Follow the form of your subject.
Double the division lines.
Choose at least 6 areas that you want to be realistic. Use color pencils. Incorporate different blending techniques to achieve the 3-D look.
The rest of the areas will be filled in with patterns and designs using ink and pen.
Each area should be different.
Leave the "double-lines" blank.
Craftsmanship is an important part in this assignment!
This is what it should look like at this point.
Fill in some (or all) double-lines with gold (silver) paint.
You can add some paint to your patterns. Do not overdo it though!!!