Depending on the decision that you made in Step 2, you can use a pencil to lay out the guides or a grid for your future pattern.
Lines should be very thin and light – you should be able to erase them easily – you don't want these lines to distract from the design.
Time to fill in the shapes with patterns.
Start at the border with your first element.
Continue drawing the elements expanding the pattern. If your pattern looks boring – you can always add more fine details to it – simple patterns to fill in empty spots (dots, circles, etc.)

The size of the elements can vary – it will add more interest to the overall design.
Transition from one pattern to another.
Find a creative way to switch between elements.
Use your pencil guide as a reference, but you don't need to stop at a line – think of a way to "fade" pattern elements into another area.
Concider adding overall value to the patterns.
Create a variety of patterns - variety creates interest.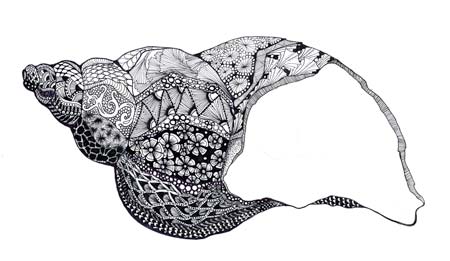 Complete all areas