Practice the knots:
Celtic knot designs are constructed using a grid method. The design consists of units, that are repeated throughout the layout.
One-string design
Basic unit:
Place basic units in a string:
Link units with curves: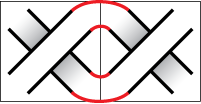 End the string with an End unit (half the width):
Shade it with a pencil to add shadows to overlapped bands.
double string design
Start with basic units. Link tops and bottoms with curves. Connect the middle ends with straight lines. Make sure the bands that start on top - go under, the bands that start below - go above. Shade when you are done.