Connect the roof shape with vanishing point.
Extend the receding lines for the roof.
Define the back side of the roof.
You just completed the inner part of the roof. But the roof is not paper-thin. We need to add thickness it it now.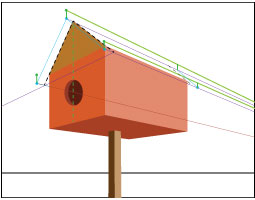 Draw short vertical lines from each roof corner.
Decide how thick your roof should be by placing a mark at the very top.
Connect the mark to the vanishing point. That's our roof top!
From the roof top mark:
Draw two lines that are parallel to the roof slant. Stop at the short vertical lines that you placed before to mark the thickness of the roof.
The front edge of the roof is done. Complete the side edge.
Place an oval in the center of the front wall. This will mark the bird entrance. Don't forget to add thickness to the opening.
Landing stick should also follow the same perspective rules.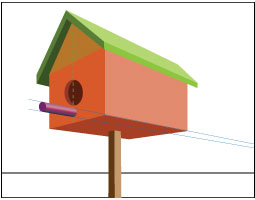 Erase all lines before coloring.